A guide to financing rural property in the Northeast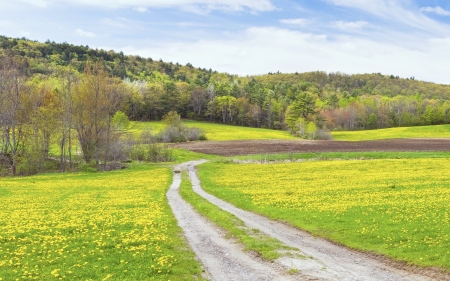 Finding the perfect plot of land for future home construction, agricultural production or other investment purposes is a once in a lifetime opportunity for many rural property buyers.
While searching for a large lot, small farm, timberland or other bare land for sale may be an exciting prospect, securing the right financing often leaves rural property buyers with more questions than answers. That's why, when the opportunity arises, you need a lender you can depend on to help guide you through the process.
For more than 100 years, Country Living Loans, the mortgage lending arm of Farm Credit East, has financed farms, land and country homes across the Northeast United States.
Today, we serve customers throughout Connecticut, Maine, Massachusetts, New Hampshire, Rhode Island, Vermont, New York and New Jersey, and we continue to provide local, personalized service to the rural residents within our territory.
Country properties, including farms, bare land, timberland, home lots and more, are our specialty. That's why we developed the following land loan financing guide to help you understand how land loans work, what type of property qualifies and the lenders who finance them.
Additionally, this guide explains the similarities and differences between securing financing for a land loan versus a home mortgage and explores land loans as a buy now, build later option for new home construction.
How land loans work
Unless you are in a position to pay cash up front, you will likely need to borrow money to finance your rural land purchase.
Whether you are interested in buying a vacant lot where you will eventually build a home, or raw land that you don't intend to develop, a land loan is a unique financing option that allows you to purchase land when the location is available before any future plans for the property are set in stone.
Borrowers are not only protected from rising land values, they also have an opportunity to leverage any land equity for future home construction, possibly reducing money down.
"Because there is more risk involved in building and developing land versus buying an existing property, land loans typically require a higher down payment," says Heather Allen, a Country Living Loans mortgage specialist covering eastern Connecticut, Massachusetts, Rhode Island and Vermont.
"However, unlike a home equity loan or a personal loan, land loans are an affordable option where the security for the loan is the land rather than your house or another form of collateral," she explains. "As a long-term, low payment option it provides the time and flexibility to prepare for next steps."
Qualifying property
Although there are different types of land loans to finance your rural land purchase, it's important to keep in mind that some lenders may have acreage limits or other property restrictions.
At Farm Credit East, we can finance any sized lot or parcel and we appraise every acre so you can utilize the full value of your real estate.
"One of the most popular types of land that is eligible for financing includes a vacant lot or property in a rural area where the buyer intends to build a new primary residence in the near future," says Allen. "While we don't have a strict requirement for when construction should begin, we like to see our customers build within 2 to 3 years."
Allen says another popular approach is buying land with the intent to farm the property.
"Many of our customers are interested in land for Community Supported Agriculture (CSA) models, timber, hay, horses or raising other livestock, but the land or farm does not have to be income-producing in order to qualify," she says. "That's one of the biggest misconceptions about land loan eligibility."
Before locking in on a piece of land, Allen also encourages rural property buyers to be conscious of land value considerations such as road frontage, easements, title restrictions, soil type, topography and other factors that may influence your ability to develop or build on the site.
"Because every rural property is unique, the key is to understand how these factors will affect the marketability of the property based on the local market and pool of interested buyers."
Ready to Get Started?
Lenders and land loans
When it comes to financing a rural land purchase, it pays to work with a lender who knows the country.
As a local lender with rural property expertise, Country Living from Farm Credit East is uniquely positioned to help guide you through the land loan process from start to finish.
Step 1: Initial Contact
As soon as you start thinking about making a rural land purchase, give us a call. Our mortgage specialists can help answer any questions you may have and provide a clear explanation of your loan request.
Step 2: Prequalification
If you're in the market for rural property but haven't found the right piece of land, consider getting prequalified. This step can help save you time and avoid delays once you've found your perfect place in the country.
Step 3: Application
Ready to move forward on your dream property? Submit a formal application along with documents that demonstrate proof of income as well as a record of your assets and liabilities.
Step 4: Conditional Approval
Our team will review your file and provide a personalized list of conditions needed to bring your file to closing. We work hand-in-hand with you to fulfill these conditions and keep you informed of any information still needed.
Step 5: Appraisal
As part of the loan process, an appraisal of the property will be conducted. The appraiser will reach out to the property contact and you will receive a copy upon completion.
Step 6: Final Approval
Once all conditions have been met, we will issue a final commitment, meaning no other items are needed as long as closing takes place within a specific time period.
Step 7: Attorney Title Work
An attorney must certify that a title or title insurance has been obtained for a lender to finance the property.
Step 8: Closing
A date is set and all documents are prepared for that date. The borrowers, attorney(s), and lender sit down to go over documents and finish the loan process.
"The steps involved in financing a rural land purchase are essentially the same as applying for a home mortgage," says Allen. "The main difference is we are going to spend more time up front discussing your budget and having conversations about what you can comfortably afford."
"We typically try to close within 45 days, but the more complex the property is, the longer the loan process will take," she adds.
For some rural property buyers, the process doesn't end there. With a land loan from Country Living, there's also the option to transition the land loan into a loan for new home construction when you're ready to build.
"If there's a balance on the land loan itself, we will roll it into a construction loan given there is enough value to do that," Allen says. "That becomes your balance on your new home construction loan starting out, and as you build, you draw on the rest of those funds until construction is complete and the loan amortizes to a regular payment. You walk away with one loan, one payment and one low fixed rate."
"At the end of the day, our mission is to keep the loan process as simple as possible for our customers no matter what your goals are for your rural land purchase. That's why we feature unique financing options to meet your needs."
If you are searching rural land for sale in New York, Maine, New Jersey, Connecticut, Massachusetts, New Hampshire, Rhode Island or Vermont, Country Living can help guide you through the process.
Contact your local mortgage specialist to learn more about land loan financing today.