Northeast Rural Property Buying Guide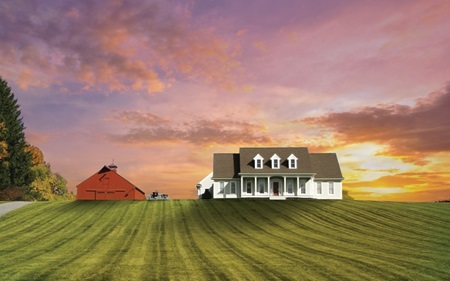 Homeownership has long been a part of the American dream, and while many buyers choose to pursue an urban lifestyle, others desire the fresh air and wide-open spaces that accompany country living.
Whether you're interested in buying bare land, a small farm or a farmhouse with acreage, investing in rural property is no small endeavor, but with help from the right team of experts it can be a rewarding, streamlined experience.
For more than 100 years, Country Living Loans, the mortgage lending arm of Farm Credit East, has financed farms, land and country homes across the Northeast United States.
Today, we serve customers throughout Connecticut, Maine, Massachusetts, New Hampshire, Rhode Island, Vermont, New York and New Jersey, and we continue to provide local, personalized service to the rural residents within our territory.
Our Country Living Loans mortgage specialists are dedicated to turning your dream of country living into a reality. That's why we developed the following rural property guide to help you get started on your journey.
From borrowing insights to land ownership rights, this guide features four areas to focus on when buying in the country including: financing, property type and size, unique land features, and other rural property resources.
Financing rural property
Unlike borrowing for a home in the city or the suburbs, there's no one-size-fits-all approach for financing rural property.
"It's helpful to talk with a Country Living mortgage specialist upfront because mortgage terms for a lot or rural home may differ from a home in a cul-de-sac neighborhood. Involving us early will help set the expectations throughout the purchase process," says Wes Kujawa, a Country Living Loans mortgage specialist serving Northern New York.
"Country home loans are not as black and white," he says. "Country homes, farms and land with unique features fall into the gray area, and at Farm Credit East, those types of properties are our specialty."
Kujawa describes the ideal Country Living Loans candidate as someone who embraces the rural lifestyle, but he reminds prospective buyers they don't have to necessarily farm in order to qualify.
"We're proud to serve agriculture and rural communities, but our services aren't available exclusively for farmers," he says. "Whether you want to buy an off-the-grid cabin and convert it to your primary residence, work in the city and are interested in buying a piece of bare land, or already own rural property and are looking to buy the 10 acres for sale next door, we offer financing solutions to anyone who buys or owns rural real-estate."
Navigating the world of country home financing doesn't have to be a hassle. By communicating with your lender early on, we can help guide you through the process.
"As a customer-owned cooperative, the financial stability of our cooperative is of utmost importance to ensure we are able to serve our customers now and into the future," Kujawa says. "We invest in opportunities that enhance the cooperative for the benefit of current and future customers. And, as we shift along the scale of risk from a house, to a lot, or a house with acreage, we price that risk accordingly."
"The more information we have, the better we can set the expectations for loan rates and terms by leveraging our expertise in the marketplace. This makes for a more personal experience to serve your needs."
Property type and size
No matter if you're moving to a barndominium by the Finger Lakes or buying vacant land in the Berkshires, there's more to finding the perfect property than location alone. For example, lot size and land use should be taken into consideration.
"Lot size and land use will not only impact your loan terms, it will also impact the value of the property," Kujawa says.
"When moving to the country, there are additional property characteristics to consider, such as zoning restrictions, large acreage and bare land. While traditional mortgage lenders may not have an appetite for bare land, we don't have restrictions against properties that are considered non-conforming," he explains. "With Country Living Loans, we can finance any sized lot or parcel. The biggest thing we look at is how the local marketplace values what the property is worth."
Understanding lot size and land use can also help you determine which option from Country Living's suite of loan products will best fit the property you are looking to buy and your financial situation.
These options include: Home & Farm Loans, Home Construction Loans, Land & Lot Loans as well as Rural Home Refinancing.
"In general, there isn't a lot of difference between financing raw land versus a lot for new home construction other than we are probably going to do a little more due diligence to make sure you can afford to build there," Kujawa says. "At the end of the day, the mortgage process is still the same no matter what type of rural property you're investing in."
Unique land features
In addition to lot size and land use, unique land features can also influence the value of your rural real estate. Before buying or building in the country, it's best practice to keep the following considerations in mind:
Water sources
How is water currently being sourced to the property?
Is it by private well, a rural water district or municipal utility?
Is the water source available year-round?
Does the flow rate and recovery rate provide sufficient water pressure and supply?
Septic systems
Is there a septic tank and drainage field on the property? If so, is the system in good working order?
Will the septic system support the number of tenants who will be living on the property?
Does the septic system meet minimum distance requirements?
Drainage and soil quality
What type of soil is present on the property?
Is it compatible for septic system installation or future home construction?
What about agricultural production?
Are there any drainage or runoff problems on the property or adjoining properties?
Property rights
How is the property classified by local zoning laws?
Are there any permitted uses or restriction that apply?
Can the property be legally accessed?
Do any right-of-way easements exist?
Outbuildings
Does the property come with any outbuildings such as barns, riding arenas or machine sheds? If so, what kind of condition are they in?
Do the outbuildings potential uses provide any additional value to the property such as rental storage?
Will the outbuildings require upkeep or removal?
Utilities
Does the property have electric or is it solar-panel powered?
Is there phone access and service availability?
Are the structures on the property heated by propane or natural gas?
How far away are the local utility service networks?
"The more unique the property is, the more unique the mortgage experience will be," Kujawa says. "The advantage of working with Country Living from Farm Credit East is we service all of our loans locally and we have the expertise to understand the financing requirements of country homes, farmhouses, small farms and land. We value every acre and outbuilding regardless of how unique the property and its characteristics may be."
Ready to Get Started?
Other rural property resources
Buying rural property is likely one of the biggest purchase decisions you will ever make. That's why in addition to working with a lender you trust, it's important to surround yourself with a team of professionals that care about your success.
"Depending on the state you live in, it may be typical, or in your best interest, to hire an attorney, especially if there is an oil and gas lease tied to the property," Kujawa says. Laws and regulations can differ across the Northeast states, including New York, Maine, New Jersey, Connecticut, Massachusetts, New Hampshire, Rhode Island and Vermont. "It's a good idea to seek out a rural real estate agent who knows the local marketplace, too."
Kujawa recommends using online resources like Zillow, Realtor.com or Land and Farm to narrow down your rural property search. The USDA is also a good resource for policies and programs specific to rural properties.
"At Farm Credit East, we take pride in our efforts to communicate clearly and honestly with our customers and provide timely service to help you achieve your goals," says Kujawa. "Each of our mortgage specialists understands the unique characteristics of country home financing, and we are all experts within our individual marketplace."
If you are searching for a small farm, farmhouse or land for sale in New York, Maine, New Jersey, Connecticut, Massachusetts, New Hampshire, Rhode Island or Vermont, Country Living Loans can help guide you through the process.
Contact your local mortgage specialist to start the Country Living loan process today.